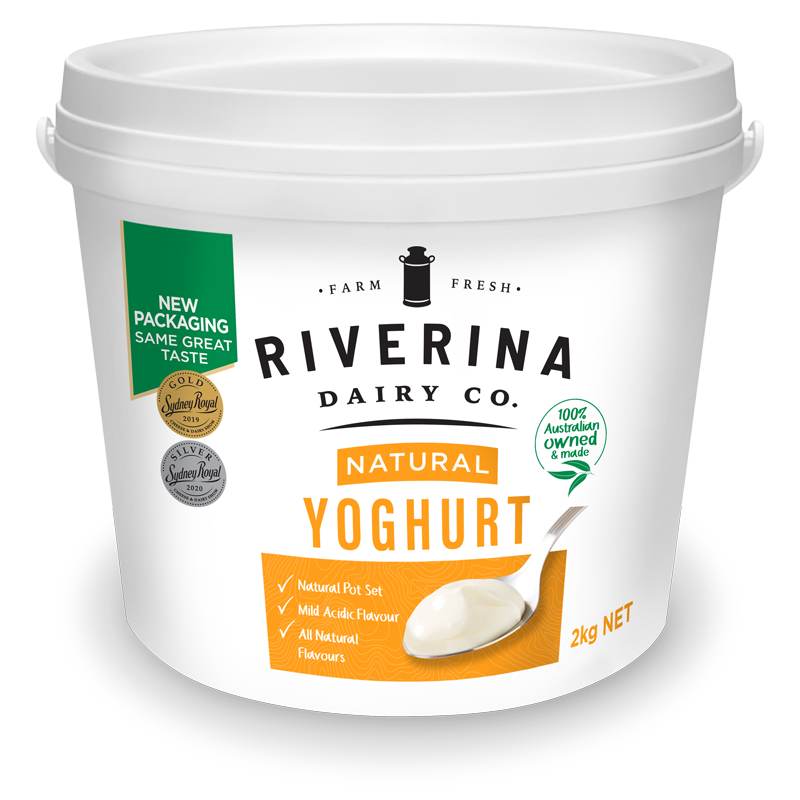 The Riverina Dairy Natural Yoghurt is a natural pot set yoghurt, that is smooth, with very mild acidic flavour.
Shelf Life: 60 days from the Date of Manufacture
Storage Conditions: Store at less than 5°C
Sensitive Customers: Lactose intolerant consumers and those with allergies pertaining to the consumption of milk and milk products
Country of Origin: Made in Australia
Directions for Use: Once open consume within the best before code. Remove required amount of product from pail, do not use unsanitary utensils when scooping product from pail.
| Serving size: 50g | per Serve | per 100g |
| --- | --- | --- |
| Energy | 174kJ | 348kJ |
| Protein | 2.7g | 5.4g |
| Fat – Total | 1.9g | 3.8g |
|  – Saturated | 1.3g | 2.6g |
| Carbohydrate – Total | 3.4g | 6.8g |
|  – Sugars | 3.15g | 6.3g |
| Calcium | 30.5mg | 61mg |
| Sodium | 90mg | 180mg |
Food Service Available Sizes